Leaky's Daily Quotedown to Deathly Hallows: 92 Days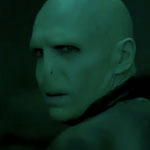 Aug 18, 2010
A special double quotedown is due today, for there are now only 92 days left until "Harry Potter and the Deathly Hallows: Part I" hits theaters! We are posting a quote from the first half of the book every day in celebration and to give us a chance to discuss and ponder the final book as it goes to film. Here's are quotes for yesterday and today!

Harry opened his eyes. For a moment he thought they had not left the wedding at all: They still seemed to be surrounded by people. "Tottenham Court Road," panted Hermione. "Walk, just walk, we need to find somewhere for you to change."
-Harry Potter and the Deathly Hallows, "A Place to Hide"

As the lamplight fell across George's head, Ginny gasped and Harry's stomach lurched: One of George's ears was missing. The side of his head and neck were drenched in wet, shockingly scarlet blood.
-Harry Potter and the Deathly Hallows, "Fallen Warrior"