New Images, Video, Interview from A/W 2010 People Tree Collection Endorsed by Emma Watson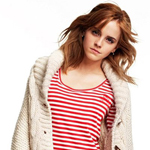 Aug 27, 2010
The People Tree website has been updated with new material from the Autumn/Winter 2010 collection endorsed by Emma Watson (Hermione Granger). The update include a number of new images, which can now be found here in our image galleries, an interview, a note from Emma and a video clip, which you can see here.
The actress writes of her visit to Bangladesh to better understand the impact of Fair Trade:
I still find it hard to convey what Fair Trade means to those producing our fashion – it's just so impressive to see how the women have used Fair Trade clothing to escape poverty and empower themselves and their children. I was very moved and inspired.
Watson also explains that she was not "centrally involved" in the design of the Autumn/Winter 2010 collection but helped in the selection of a number of Fair Trade textiles featuring in the new fashion line. When interviewed, Emma spoke briefly about the processes involved in handmaking garments:
I always find it difficult to impress on people what 'handmade' really means. To make a simple garment they have to produce the yarn, hand-dye the yarn, get it onto the loom, then weave the fabric, cut it to the pattern, sew it into the garment and then embroider it – all by hand. It is so hard for people to imagine what it takes to create something and how special that item of clothing is.
Emma later continues:
I've been given a lot in my life and I have had so many fantastic opportunities. It's really important to me that I try to give something back. I wanted to find the right thing and working with People Tree is so special and rewarding and the best way I can do that at the moment. I really believe in Fair Trade and I just want to see more of it in the world. I need to know there are more places like Swallows.
You can find the full interview on the newly updated website at this link.