Leaky's Daily Quotedown to Deathly Hallows: 83 Days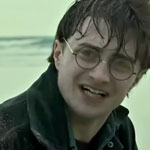 Aug 28, 2010
There are now only 83 days left until "Harry Potter and the Deathly Hallows: Part I" hits theaters! We are posting a quote from the first half of the book every day in celebration and to give us a chance to discuss and ponder the final book as it goes to film. Here are today's!

Finally Bill said, "All right. Who do you want to talk to first?"
Harry hesitated. He knew what hung on his decision. There was hardly any time left; now was the moment to decide: Horcruxes or Hallows?
"Griphook," Harry said. "I'll speak to Griphook first."
Harry Potter and the Deathly Hallows, "The Wandmaker"