Leaky's Daily Quotedown to Deathly Hallows: 63 Days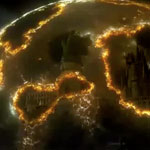 Sep 18, 2010
There are now only 63 days left until "Harry Potter and the Deathly Hallows: Part I" hits theaters! We are posting a quote from the first half of the book every day in celebration and to give us a chance to discuss and ponder the final book as it goes to film. Here two quotes for yesterday and today!

"We've caught Potter!"
– Fenrir Greyback
Harry Potter and the Deathly Hallows, "Malfoy Manor"






"Mundungus Fletcher," croaked the elf, his eyes still tight shut. "Mundungus Fletcher stole it all: Miss Bella's and Miss Cissy's pictures, my Mistress's gloves, the Order of Merlin, First Class, the goblets with the family crest, and — and –"
Kreacher was gulping for air: His hollow chest was rising and falling rapidly, then his eyes flew open and he uttered a bloodcurdling scream.
"–and the locket, Master Regulus's locket, Kreacher did wrong, Kreacher failed in his orders!"
Harry Potter and the Deathly Hallows, "Kreacher's Tale"