First Preview Clip of Oprah Interview with J. K. Rowling Online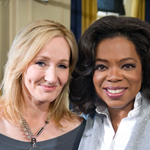 Sep 29, 2010
The Oprah Show YouTube channel has been updated with this 41 second video teaser from Friday's interview with Harry Potter author J. K. Rowling. In the teaser, topics such as Ms. Rowling's quick rise to fame, her depression, and day-to-day life are touched on.
If you are able to capture any additional previews or commercials showcasing the interview, please do email us at [email protected] Any readers who are able to capture the video are also encouraged to email!
To see when The Oprah Winfrey Show airs in your area, please click here.