Winners of Lockhart Excerpt Contest Announced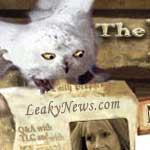 Sep 08, 2010
Our Contest Team invited you to take part in their Lockhart Excerpt Contest over the month of August,
which asked you to write an excerpt you'd find in one of Gilderoy Lockhart's seven books. After receiving many wonderful and original entries, the judges have now selected winners as follows:

1st Place: Malfoy Diva – Holidays with Hags
2nd Place: mgouda – Voyages with Vampires
3rd Place: Lori A. – Year with the Yeti
Honorable Mention: AlwaysME – Year with the Yeti

Clicking the winners' usernames will take you to their winning entries at the Leaky Lounge. The first place winner will receive a handcrafted wand donated
by Wizard Wood Wands and 200 MyLeaky points. Congratulations to the winners and everyone else who entered!