Leaky's Daily Quotedown to Deathly Hallows: 71 Days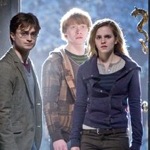 Sep 09, 2010
There are now only 71 days left until "Harry Potter and the Deathly Hallows: Part I" hits theaters! We are posting a quote from the first half of the book every day in celebration and to give us a chance to discuss and ponder the final book as it goes to film. Here are quotes for today and yesterday!

"Arthur," Harry interrupted, "you know you're being tracked, don't you?"
"Is that a threat, Runcorn?" said Mr. Weasley loudly.
"No," said Harry. "It's a fact! They're watching your every move –"
Harry Potter and the Deathly Hallows, "The Muggle-Born Registration Commission"

"We'll go somewhere more sheltered," she agreed, shivering as she pulled on a sweatshirt over her pajamas. "I kept thinking I could hear people moving outside. I even thought I saw somebody once or twice."
– Hermione Granger
Harry Potter and the Deathly Hallows, "The Silver Doe"