Character Motto Contest Announced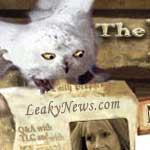 Jan 02, 2011
As it's now the month of January, our Contest Crew have announced their newest contest, the Character Motto Contest. Entrants to this month's contest must create a motto (of no more than 10 words in length) for a character in the Harry Potter books. For example, what short saying would Hermione have that would express her guiding ideal or principle? All entries must meet PG-13 standards of decency and good taste.
Please email your submission to [email protected] by 11:59 pm (EDT) on the 31st of January with "Character Motto" in the subject line of the e-mail and your motto copied and pasted into the body of the e-mail. Please also include a name to be used for authorship, either a real name or a Leaky Lounge name and do bear in mind that all entries must meet the PG-13 rating. The full rules and more information about the Character Motto Contest can be found here. The first place winner will receive a handcrafted wand donated by Wizard Wood Wands (design changes each month) and 200 MyLeaky points.
FAQ can be found here and if you have any questions not answered in the FAQ, or would like to discuss this Contest, please come to the Contest Corner Forum of The Leaky Lounge. Best of luck to all who enter!