"Harry Potter" Films to Receive Honorary BAFTA Award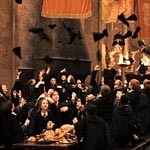 Feb 03, 2011
Organizers for the British Academy of Film and Television Arts (BAFTA) Awards announced this morning that the "Harry Potter" film franchise will receive the award for "Outstanding British Contribution to Cinema."
Author J.K. Rowling and producer David Heyman will be presented with the award during the ceremony on February 13th at the Royal Opera House in London.
According to BAFTA organizers:

"The Harry Potter films have not only created stars in front of the camera, but have also highlighted the expertise within the British craft and technical industries, supporting a vast array of jobs throughout production. Their contribution to the British filmmaking industry was underlined last year when Warner Bros. Pictures, which has shepherded the film series from its inception, purchased Leavesden Studios in Hertfordshire. Leavesden Studios has been the Harry Potter base for the past ten years."
To date, the "Harry Potter" films have received seven Oscar nominations and 28 BAFTA nominations. It also won the publicly-voted for Orange Film of the Year award in 2004 for "Prisoner of Azkaban."
David Heyman gave an early reaction to the news saying:

"On behalf of the over 2000 people who worked in front of and behind the camera on each of the Harry Potter films I would like to say how honoured we all are to receive this Award. And thank you to Jo Rowling for entrusting us to bring her magnificent books to the screen."
Daniel Radcliffe (Harry), Rupert Grint (Ron), and Emma Watson (Hermione) also expressed their gratitude to the BAFTAs for recognizing the films.
Daniel Radcliffe:

"I am thrilled that the Harry Potter film series is being honoured with this Award. I have loved every minute of making these films and to me the real heroes are the crew and the huge team of craftsmen that have made all eight of them possible – this Award is a testament to their incredible work."
Emma Watson:

"This is a huge honour! I am so proud to have been part of the
incredible team both in front and behind the camera that made these
films. Thank you to Jo Rowling for writing such wonderful books, to
David Heyman for shepherding us all through the past ten years and to
all the loyal fans who have been with us throughout."
Rupert Grint:

"Thank you so much BAFTA for this amazing Award. We have spent half our
lives making these films and are so proud of the pleasure they have
given the fans and the contribution they have made to British cinema."