"Order of the Phoenix," "Half-Blood Prince" Ultimate Editions Receive June 14, 2011 Release Date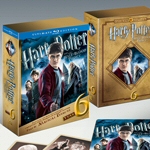 Feb 21, 2011
Home Media Magazine is reporting that the following two installments of the Harry Potter: Ultimate Edition DVDs will be released on June 14, 2011.
"Order of the Phoenix" and "Half-Blood Prince" are the next two films to receive the Ultimate Edition treatment just a month before the final film, "Deathly Hallows: Part 2," is released in cinemas.
Pre-orders are expected to begin on May 10. The two-disc Blu-ray set will have a retail price of $49.99 while the DVD versions will be $39.92.
Just like the previous Ultimate Edition releases:

Each ultimate edition has a new hour of the "Creating the World of Harry Potter" documentary series, which will total to eight hours when completed. Additionally the sets include a digital copy of the film, more than four hours of special features and such collectibles as a 44-page photo book, limited edition character cards and a lenticular card.