Emma Watson Putting University on Hold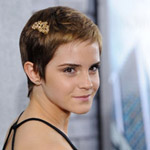 Mar 07, 2011
Emma Watson (Hermione Granger) posted a message on her official website today announcing that she will be taking a break from her studies at Brown University to focus on the final round of "Deathly Hallows" promotion and other projects.

As you know, I love Brown and I love studying pretty much more than anything but recently I've had so much to juggle that being a student AND fulfilling my other commitments has become a little impossible.
I've decided to take a bit of time off to completely finish my work on Harry Potter (the last one comes out this summer) and to focus on my other professional and acting projects. I will still be working towards my degree… it's just going to take me a semester or two longer than I thought : )
Hope you are all well! Thank you for all your continuing support.
Watson recently launched the Spring/Summer 2011 collection with People Tree as well as another capsule collection with Alberta Ferretti. She is also due to begin filming her role as Sam in "The Perks of Being a Wallflower" sometime this summer.