Royal Mail Releases Lord Voldemort and Albus Dumbledore 1st Class Stamps Today (Updated)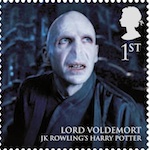 Mar 08, 2011
The Royal Mail have issued their range of "Magical Realms" stamps today, Tuesday 8th March, including two 1st Class stamps featuring Michael Gambon and Ralph Fiennes as Albus Dumbledore and Lord Voldemort respectively. Update: You can now find images of the stamps right here in our galleries. In a press release, the Royal Mail wrote:

Magical Realms (…) features some of the world famous wizards and enchanters who have brought a touch of magic to millions of people, from the legendary tales of King Arthur to the million-selling books of C.S. Lewis, Sir Terry Pratchett and J.K. Rowling.
The set of eight stamps use a combination of film imagery and newly commissioned images. The set of stamps includes the myths and legends of King Arthur through two 60p stamps of Merlin and Morgan le Fay, while two 97p stamps reveal images of Aslan and the White Witch from The Chronicles of Narnia. The set is completed by four 1st Class stamps portraying Dumbledore and Lord Voldemort from J.K. Rowling's Harry Potter series and Rincewind and Nanny Ogg from Sir Terry Pratchett's Discworld series.
Renowned author Sir Terry Pratchett is quoted as saying:

Throughout history wizards and magicians have always held a beguiling place in the British psyche. In legends, poems, books and films, they have been a constant source of inspiration for generations.
Philip Parker, Royal Mail Stamps spokesperson, said:

People across the UK have always enjoyed an epic tale of magical adventure, so we decided to bring together these classic stories, both ancient and modern, in one set of stamps.
Many of these tales involve more than one magical character, so we selected four different sets of stories, choosing two characters from each. The result is a beautiful set of stamps and a fitting tribute to these legends of literature.
Stamps and stamp products are available at all Post Offices, or online at this link and from Royal Mail Tallents House (tel. 08457 641 641), 21 South Gyle Crescent, Edinburgh, EH12 9PB.
Pictures of the stamps can be seen at this link in our galleries from here.