Voldemort is going down!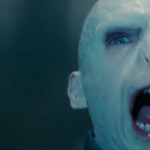 May 10, 2011
Our first caption contest is officially under our belts and I'm thrilled to say that we had an overwhelming number of submissions. I'll be posting several of them on our Tumblr throughout the night, but one winner has been chosen!
Congratulations to ~Roni~! She's been awarded 100 MyLeaky points for her creative, StarKid-inspired submission.
Check the top of this post for the next picture we want you to caption. Leave your best captions in the comments and another winner will be chosen, awarded 100 MyLeaky points, and posted here tomorrow. Good luck!