"Deathly Hallows: Part 1″ and "Part 2″ Win at National Movie Awards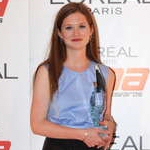 May 11, 2011
The National Movie Awards were held this evening at Wembley Stadium in London, and the Harry Potter series walked away with several accolades.
"Harry Potter and the Deathly Hallows: Part 1″ won the award for Best Fantasy Film. Meanwhile, "Part 2″ also won an award for Must See Movie of the Summer. Actress Bonnie Wright (Ginny Weasley) was on hand to accept the awards. Photos of Ms. Wright on the red carpet and in the press room can be seen at Getty Images.
Additionally, Jamie Campbell Bower, known for his role as young Gellert Grindelwald in "Deathly Hallows" and Prince Arthur in "Camelot," was awarded the One to Watch: Brits Going Global award.
Update: Images of Bonnie Wright, Jamie Campbell Bower, and producers David Heyman and David Barron have been placed in the gallery. Video is also now online from the ceremony in which Ms Wright and the producers thanked fans for the multiple awards. During the ceremony, the National Movie Awards aired a montage in honor of the Potter franchise and its seven wins – the most for any film series in the history of the NMAs! All that can be seen in this video on YouTube.