I've been dreaming of…a true love's kiss?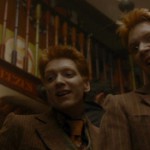 May 24, 2011
Just what was going through Voldemort's mind at this exact moment? We'll never know! But Leaky user Tarana had a pretty hilarious caption for us. Congratulations, Tarana! You also win 100 MyLeaky points.
As always, we had a ton of wonderful submissions and several of them will be posted on our Tumblr throughout the night. The next picture we want you to caption, featuring everyone's favorite twins, can be seen at the top of this post. Remember, leave your captions in the comments below and check back here for our next winner. Good luck!