"Thanks for all of it, Jo" Alan Rickman Remembers Harry Potter for Empire Magazine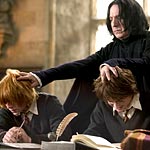 May 25, 2011
Actor Alan Rickman (who portrays the character of Severus Snape) has written as part of Empire Magazine's Harry Potter Ultimate Celebration Supplement about his time working on the films. In brief, yet touching, note, Mr. Rickman describes his emotions upon finishing his role as Severus Snape and recalls working with his young co-stars Dan Radcliffe (Harry Potter), Emma Watson (Hermione Granger), and Rupert Grint (Ron Weasley). The note finishes with a thank you to Harry Potter author J. K. Rowling.
To view the note, please click here.
The full issue of Empire Magazine with the 36 page supplementary will arrive on newsstands tomorrow.
Thanks to Andy!