J.K. Rowling Attends London Dinner Hosted by Barack Obama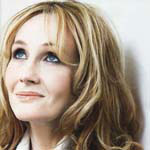 May 26, 2011
BBC News today reported Harry Potter author J.K. Rowling's attendance at a dinner hosted by US President Barack Obama. The dinner was hosted by Obama in honour of Queen Elizabeth II and marks the end of the US President's state visit to the UK. Taking place in London at the official home of the US ambassador to Great Britain, more than 50 guests, including Colin Firth, David Beckham and of course, J.K. Rowling, attended.
The article notes, "while the state banquet on Tuesday night had been a white-tie affair, the dress code for the Obamas' dinner was black tie."
Of the evening's entertainment:

They enjoyed a three-course meal that included lobster
ravioli, griddled filet of aged Highland beef, crushed Jersey Royals
with rosemary, asparagus and minted broad beans, topped off with classic
pecan pie and brandy ice cream for dessert.

After the last plates had been cleared, American Tony Award-winning
singer and actress Kristin Chenoweth performed for the diners.
Read the full article at this link.