Matt Lewis Discusses "Deathly Hallows: Part 2″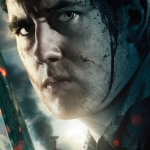 May 29, 2011
In a new interview with Empire Magazine, Matthew Lewis (Neville Longbottom) shares his thoughts on his role and the evolution of his character in "Deathly Hallows: Part 2″:
Neville started off rather timid and nervous, but he ends up very different, wouldn't you say?

Absolutely.
It was sort of method acting really. If you look at some of those early
films when I'm looking terrified in front of Alan Rickman or whatever,
it's probably because I am! But when it got to the last film, Deathly
Hallows, I could just have a chat with Alan, so it sort of evolved the
same way as the character, I suppose.
…
We didn't really see Neville much in Part 1. But Part 2 is, judging by the books, his finest hour.
I
felt quite lucky to have been in Part One, to be honest, because the
character's not actually in the book until the end. But, you know, David
said he wanted to stick him in just to remind people what was going on
back at school. And it was just nice to have been in, because it means I
was in all eight films even if it was only for one line!
Lewis also discusses the way the movie departs from the book. Warning, there are some potential movie spoilers:
What sort of thing has been added?
Just
stuff where you see what the students are getting up to while they're
in this war. The book's focused very heavily on Harry Potter. But the
film keeps coming back to the students and the teachers and what's going
on. And the whole war is very real. It is really life and death. I
won't give too much away, but the whole thing for me was just so much
fun because there was so much in. There was a bit of light humour at the
beginning; a bit of, sort of, French Resistance stuff. But then the war
kicks off and there's action to do and there's a lot of drama as well
because there are people dying around us, and Neville's in charge of
these people who are dying. I just got to do so much different stuff. It
was great.
You've said before in interviews that Neville's seen carrying a dead body.


Yeah,
that's right. I mean, because Neville is the leader he's determined to
act like one so he's always on the frontlines. I think he feels
responsible for every student that dies because he knows that he's the
one putting them out there. But it was a challenge. I really hope they
keep it in because it really shows Neville at his best. There's all this
fun stuff where Neville's very adrenalised and on autopilot. But that
bit brings him back down to Earth for a minute. And I really hope they
keep it in.
You can read the rest of the interview here. "Harry Potter and the Deathly Hallows: Part 2″ will be released in the US and UK July 15th.