Feeling a bit peaky, are you?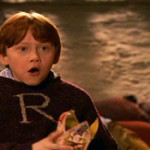 Jun 20, 2011
Another picture, another great round of captions from you guys. This one was really close, but congratulations to Leaky user Nick_Jonas_Potter_343 on winning the caption contest as well as 100 MyLeaky points! I think that's how we'd all feel after a ride through Gringotts. Remember, as always, to keep your eyes on our Tumblr for more captions, gifs, and the latest news!

The next picture we've chosen felt completely appropriate, if only because we suspect that's how all of our faces will look come Thursday morning! What do you think has gotten Ron so shocked? Leave your best captions for us in the comments below and be sure to check back here for the winner!