Leaky's Dear Mr Potter Daily Giveaway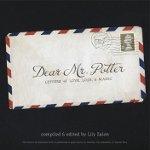 Jun 21, 2011
Announcing Leaky's Dear Mr Potter Giveaway! Over the next five days we'll be giving away one copy of Dear Mr. Potter: Letters of Love, Loss, and Magic each day to a lucky commenter. This contest is open to registered Leaky members who can be contacted via their MyLeaky profiles, are over age of 13, and who are resident in the United States. Today's commenters who would like to be in with a chance should answer the question: what is your first memory of reading Harry Potter? Leave your answers below, and good luck!
Dear Mr. Potter will be released on the 1st July and features nearly 200 pages worth of letters and pictures from Harry Potter fans including:

Evanna Lynch (Luna Lovegood),
New York Times-bestselling author John Green, Leaky Cauldron
webmistress and author of New York Times-bestseller "Harry, A History"
Melissa Anelli, Andrew Slack of the Harry Potter Alliance, Paul DeGeorge
of Harry and the Potters, Andrew Sims and Eric Scull of MuggleNet, and
Esther Earl's mom, Lori.
Find out more information about the book, including where to pre-order, on the official website.