Jason Isaacs Talks Lucius Malfoy's Transformation, Calls Draco Malfoy 'Hero of the Whole Saga'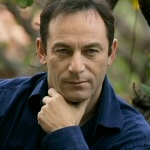 Jul 05, 2011
The LA Times' Hero Complex blog has published a new interview with actor Jason Isaacs about his work as Lucius Malfoy in the Harry Potter series.
Mr. Isaacs reflects on what it was like to play the villain of the series, and learning more about Lucius' character as the story went on. He says that "nothing has brought me greater joy" than being part of the Harry Potter films and comments on being a mentor for the younger actors.
NC: As a villain, Lucius Malfoy has a very interesting character arc.
JI: Well, he has an arc. I think that sets him apart
from an awful lot of the adults who do not have the luxury of playing
that. It's not that we haven't all had a riot doing it. But the Lucius
that you see, shambling along, this alcoholic husk of an emasculated man
in the "Deathly Hallows" films is so completely different from the
strutting peacock of "Chamber of Secrets' and it's been enormously good fun to play that journey.
Mr. Isaacs also went on to explain how he viewed the character of Draco Malfoy (played by actor Tom Felton) to be "the hero of the whole saga." He says he felt the need in "Chamber of Secrets," "to explain how Draco turned out to be who he was."

Because in many ways, to me, Draco is the hero of the whole
saga. I think Harry has his destiny. There is only one choice Harry can
make in every situation. Harry makes the right choice always, and he's
admirable for doing so. But Draco has a bunch of choices, and Draco has
to break the bonds of the shackles of his past. He has to break the
chain of this kind of abuse and hatred and selfishness and entitlement
that his father has been part of, and probably his grandfather and
stretching back for generations. And so I saw my job as trying to
illustrate how you end up with a kid as messed up as Draco.
The full interview with Mr. Isaacs can be read here.