Sydney's Powerhouse Museum Announced as Next Destination for "Harry Potter: The Exhibition"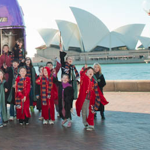 Jul 08, 2011
Warner Bros. Consumer Products announced Sydney, Australia's Powerhouse Museum as the next destination for Harry Potter: The Exhibition. The exhibition will open on the 19th November and will run until the 18th March, 2012. The Powerhouse Museum will be the first venue to host the exhibition outside of North America and the sixth venue to host the exhibition in general. You can find a promotional picture released by WB of some young Harry Potter fans in front of a Knight Bus and the Sydney Opera House right here in our galleries.
The director of the Powerhouse Museum is quoted in a press release as saying:

"Harry Potter's world has captured the imagination of children and adults around the world. We are excited to bring his enchanted world to the Powerhouse for its first and only stop in Australia' said Dr Dawn Casey, director, Powerhouse Museum. "We invite all Harry Potter fans and anyone with an interest in the stunning creativity and skill which goes into making these stories come alive to come and see this truly magical exhibition."
Have a look at the Powerhouse Museum website for more information on the exhibition's next stop!