Ultimate Fan Celebration for "Deathly Hallows: Part 2″ July 14 at Grauman's Chinese Theater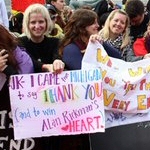 Jul 12, 2011
The Los Angeles radio station, Power 106, will be hosting an ultimate fan celebration on Thursday, July 14 at Grauman's Chinese Theater in Hollywood, California.
According to a press release, the event begins at 9 p.m. and lasts until midnight, when the fans will then enter the cinema to watch "Harry Potter and the Deathly Hallows: Part 2."
Fans at Grauman's will have the opportunity to win prizes such as t-shirts, hats, the soundtracks and much more.
"Deathly Hallows: Part 2″ opens on July 15, 2011 in the U.K. and U.S.