Pottermore Blog Gives Additional Info on Magical Quill Challenge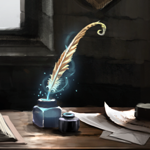 Aug 02, 2011
The Pottermore Insider blog has answered a few more questions with regards to the Magical Quill Challenge. Of particular interest might be the time frame during which the fourth clue will be posted:
So far, all the clues have appeared in the early hours of the morning
in my time zone. Will this continue for the remainder of The Magical
Quill challenge?
We know that Harry Potter fans around the world are taking part in the
challenge, so we will be varying the times that the clues are revealed.
We can tell you that tomorrow's clue (Day 4) will be released between
2.00pm and 6.00pm BST.
Additional questions are included here. For your reference 2:00 pm BST is 9:00 am EST and 6:00 am PST.