Updated: Pottermore's Magical Quill Challenge, Day 4, Now Closed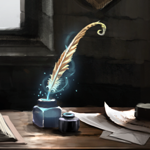 Aug 03, 2011
Update: Registration for day 4 is now closed; tomorrow's clue will revolve around Order of the Phoenix. No word yet on what time to expect the latest challenge.
Day 4 of Pottermore's Magical Quill Challenge is now open with a clue from Goblet of Fire.

How many students take part in the Triwizard Tournament during Harry's fourth year? Multiply this number by 28.
Think you know the answer? Add the number to the end of this website address (http://quill.pottermore.com/) and find the magical quill for a chance to be one of the first million Pottermore beta users. Please do not post the answer or link in the comments!
Be quick! Registration will only be open while spaces are still available each day.