Updated: Now Closed, Day 5 Clue for Pottermore's Magical Quill Challenge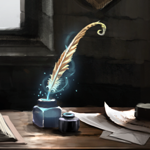 Aug 04, 2011
Update: Registration for day 5 is now closed; only two more days left!
Update #2: The Pottermore Insider has revealed the times for the last two registration days.

Day 6 will be released between 1:30pm and 4:00 pm BST (8:30am – 11am EST)
Day 7 will be released between 12:30am and 3:00am BST (7:30pm – 10pm EST)
The clue for Day 5 of the Magical Quill Challenge is now live, referencing Order of the Phoenix.

What is the house number of the Headquarters for The Order of the Phoenix in Grimmauld Place? Multiply this number by 21.
Think you know the answer? Add the number to the end of this website address (http://quill.pottermore.com/) and find the magical quill for a chance to be one of the first million Pottermore beta users. Please do not post the answer or link in the comments!
Be quick! Registration will only be open while spaces are still available each day.