Experience "Deathly Hallows: Part 2″ in 3D IMAX: Have you seen it?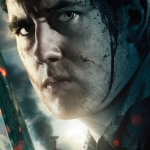 Aug 13, 2011
On the heels of news that the complete set of eight Harry Potter films will to be released in this fantastic packaging in November, we will all get to see the whole series– and especially Harry Potter and the Deathly Hallow: Part 2— on our DVD, Blu-ray, or computer. Before the last Potter film leaves theaters, however, we wanted to pose the question to readers whether they will watch the film again (or for the first time) in IMAX before watching again at home? It's a breathtaking experience to see this installment of the series in IMAX. Something unforgettable happens when the supreme IMAX audio presentation is paired with the kind of detail seen in 3D on the massive IMAX screens.
If you've already experienced the film in IMAX 3D, share your thoughts with us below! To find out more information about the IMAX 3D experience, and to see where it's still playing near you, click here!