Early Beta Testing Access for Pottermore Begins; October Registration to Open Soon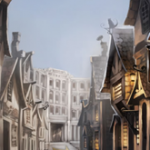 Aug 15, 2011
The Pottemore Insider Blog has just been updated to announce that early access to Pottermore has begun for those who found those Magical Quills and signed up for a chance at early access. The blog post, in part, reads:

We're excited to announce that early access to Pottermore has begun, so if you're one of the million people who found The Magical Quill and registered for early access, please read the rest of this Insider post carefully.
The most important thing to know is that we need to stagger entry to the ˜Beta' (early) version of Pottermore so we can properly collect all the feedback. To begin with, we'll be inviting a very small number of people onto the website, so you may not receive your Welcome email straight away.
We'll be sending those Welcome emails out over the coming weeks and, once yours arrives, you'll be able to log in and start helping us develop the Pottermore experience.
The blog post continues, describing the way in which beta testers may give feedback to the site, including a feedback button and survey for each beta tester.
Finally, the blog post makes mention of registration for the October. The post states:

– If you have submitted your email address to be notified when registration is open to all, then you'll be hearing from us soon, and you'll be able to register for entry in October.
– If you asked to be notified when registration was open to all but also registered for Beta, then you may receive two emails from us. You do not have to register for October if you already have a validated early access (Beta) account. In other words, if you received a Beta ˜Congratulations!' message then you can ignore the ˜Pottermore registration is now open' email (although do feel free to forward it to your friends!).
Stick very close to Leaky for the latest!