Leaky's Pottermore First Impressions Live Blog and Review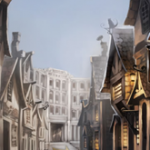 Aug 18, 2011
This morning, Leaky was lucky enough to gain early beta access to Pottermore, J. K. Rowling's Harry Potter online reading experience. As I go through the process of exploring Pottermore, this post will live blog my latest reactions, experiences, and discoveries. Those who wish to wait to experience Pottermore for themselves please do read with caution as this post will contain details on the process and moments from the online experience. A full review of Pottermore is due shortly. Enjoy!
Live Updates:
Even after the first few pages and tutorials, you can tell just how much detail and how many things there are to do in Pottermore. You can zoom in and out, up and down to find clues and info.

Privet Drive contains so many little elements from the story in just one image.

Click everything!

Pottermore follows the story in such a way that you are introduced to places, characters, objects, etc. as they become important in the story.

Even after a few days, the drawings and comments for moments and parts of the story are very high quality.

Shooting stars and put-outers!

Determined to transform the cat into McGonagall (I don't know if they even do that!).

Friend and nicknames is a great feature. Gives a little breakdown of their house. Hope to run into them in the hallways

Character bios seem to start very basic and then expand as you get deeper into the story.

Four moments in Chapter 1. Now for chapter 2!

Little lock images appear over red quills indicating you haven't yet unlocked the special new JKR content on the site.

Electric meter numbers? In Harry's cupboard?
Still can't get over the detail. In the zoo, lights flickering, reptiles slithering around, the glass disappearing.

Another great feature: You can see when your friends are in the same chapter as you.

So many objects to collect for your trunk. Very interested to see how these things add up.
Loving how Pottermore puts you in the story but lets you imagine the characters and moments as you remember them while reading the books.
Going shopping for school supplies! Never had this much fun doing this ever before.

Do I want a cat a toad or an owl?

A Brown Owl, it is!

WAND time!

The wand chooses you, of course. Asked a series of questions about yourself. Some are difficult to decide upon!

My wand: Hawthorn with Unicorn Hair, thirteen and three quarter inches, surprisingly swishy.

The detail about Mr. Ollivander is among the most fascinating yet.

I wonder, if one buys a Rememberall, will it light up when you've forgotten something in the story?

Even if we don't see the character in the Pottermore moment, if they were featured or introduced in the chapter se get a short bio about them.

Made it to Hogwarts, now for the Sorting Hat.
Lovely video from Jo pops up to speak more about the sorting ceremony.

Sorting questions are HARD!

Well, I have a new house. I'm a Slytherin.

Have now unlocked the Common Room, Great Hall and a number of other features

Exploring the Potions area. Seeing what I can make.

Should say: always considered myself a Ravenclaw. Slytherclaw?

Potions is as precise as it is in the books.

Takes skill and patience. Great experience, perhaps soon I'll get one right!