September Contest: Other Uses for the Room of Requirement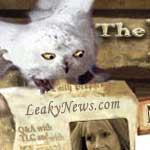 Sep 01, 2011
The Room of Requirement has always had different uses throughout the Harry Potter series, from a training room for Dumbledore's Army to a room full of chamber pots for Professor Dumbledore. For our September contest, Leaky is asking how would you, as a Hogwarts student, utilize the room's enchantments to your benefit?
To enter the contest, describe how you would use the Room of Requirement including the who, what, how and when aspects. Be thorough in your description covering all the loopholes and requirements to make it work! Entries must be no more than 50 words in length and should be sent to [email protected] with "Room of Requirement uses" in the subject line.
Readers 13 years of age and over may enter the contest, including staff members not involved in the judging process. The first place winner will receive a handcrafted wand from Wizard Wood Wands, a copy of the book The Practitioners Guide to Wand Magic by William C. Wilson, and 200 MyLeaky points. Second, third, and honorable mentions will receive 150, 100, and 50 MyLeaky points, respectively.
For complete details, please visit the contest page. You have until September 30th at 11:59 pm (EDT) to enter. Good luck!