Matthew Lewis Takes Part in Hometown Charity Walk for Children's Hospice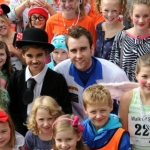 Sep 13, 2011
Actor Matthew Lewis (Neville Longbottom) recently participated in the 10k Bethany's Walk of Smiles charity walk in his hometown of Horsforth, England.
The walk was led by 11-year-old performer Bethany to raise money for Martin House Children's Hospice. Mr. Lewis was interviewed by the Yorkshire Evening Post about his participation in the Walk, and also hinted at an upcoming film project for the end of the year.

He said: "The success of this event is a testament to how hard Bethany has worked and how hard everyone else has worked.

"I'm just so impressed and very privileged to be a part of it."

Matthew did the walk after a morning training with a coach from Leeds Rhinos RL team"

He
said: "I'm trying to get a bit bigger for a role at the back end of the
year. It's a film but I can't say too much about it at the moment."
A photo of Mr. Lewis surrounded by fellow participants can be seen here. Donations can still be made for Martin House Children's Hospice at Bethany's JustGiving page.