Dog That Played Padfoot in "Prisoner of Azkaban" Up For Adoption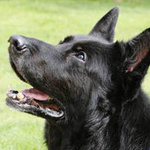 Sep 27, 2011
Berry, the German Shepherd who played Padfoot in "Prisoner of Azkban," is up for adoption:
The ten-year-old mutt, who played the
animal version of Gary Oldman's character Sirius Black and the godfather
to Radcliffe's character Harry can no longer be looked after by his owner, Paul Thompson.

Trained stuntman Mr Thompson, said he spends too much time away from home to give Berry the attention he deserves.
You can read more about Berry here or here.
Thanks to everyone who emailed!
style="font-size: 1.2em; font-family: Arial;">