Actors in the News Weekly Roundup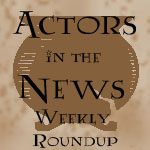 Jan 11, 2011
Actor news is still light on the ground. Firstly, the chaps behind the Facebook page for the musical "How to Succeed in Business Without Really Trying", in which Daniel Radcliffe (Harry Potter) will star this Spring, have added new photos of the Al Hirschfeld theatre marquee. The marquee features never-before-seen promotional photos of Radcliffe and you can find these pictures here on the "How to Succeed" Facebook page. The musical opens on the 26th of February 2011.
Also in theatre news, David Tennant (Barty Crouch Jr.) is to appear in a West End
production of Shakespeare's "Much Ado About Nothing" as Benedick to
Catherine Tate's Beatrice. Previews begin on the 16th of May and the
show is currently booking until the 3rd of September. Find more details
here at the Wyndhams Theatre website. Tennant appeared on BBC Breakfast to talk about the role – you can watch a clip of his interview on the BBC News website.
Rupert Grint (Ron Weasley) appeared on British television programme, "Come Fly With Me", starring comedy duo David Walliams and Matt Lucas. Screenshots of Rupert's appearance can be found here in our galleries and a video can also be found in our video galleries.
Robert Pattinson (Cedric Diggory) attended the People's Choice Awards
2011 last week at Los Angeles' Nokia Theatre. We have lots of images
from Pattinson at the event here in our galleries. "Eclipse" won Favourite Movie, Favourite Drama Movie and Favourite On Screen Team.