Report: Alteration Made to Snape Death Scene in "Deathly Hallows," Says Art Director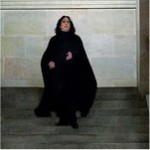 Jan 18, 2011
An interview with the "Harry Potter and the Deathly Hallows" art director, Andrew Ackland-Snow, has revealed a bit of curious information from the forthcoming conclusion to final part of the Harry Potter film series. This information, which is being reported in Cine Premiere Mexico, is quite spoiler-rific and details the death sequence of Severus Snape (portrayed by actor Alan Rickman) in the final film. If you wish to find out this J. K. Rowling approved change, read below.
Last spoiler warning!
Cine Premiere Mexico reports:

"We wanted to change a bit where Snape dies. In the book, he dies on the Shrieking Shack, and we wanted to get him out from, not a conventional interior, but from that kind of box, to do it in a more dramatic atmosphere. We asked J.K. if she agreed for that to happen in there, because we hadn't really seen it before. We made a crystal house, and you can see what happens in the boat house from there – Are you listening Harry? -, but also the school is in flames…and she loved it. Besides, it's a very romantic place to die. Snape dies in a extremely good way, I gotta say."
"Harry Potter and the Deathly Hallows: Part 2″ arrives in theaters this July.
Thanks to HPANA for the heads up.