Ciaran Hinds: "Being on Set on Harry Potter was Nerve-Wracking"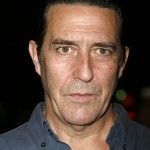 Jan 04, 2011
Ciarán Hinds (Aberforth Dumbledore) has given a new interview to Scotland's Daily Record in which he describes his experience on set filming "Harry Potter and the Deathly Hallows" as "nerve-wracking":

"It was surreal to be in a room with those three kids, all of whom know exactly what they're doing. And then there's you, who has been around for a long time, and they're the ones putting you at ease and making sure you know what you're doing on set. It was bizarre. But it was also really interesting to see things from that perspective. With every job, you're typically looking for the director to make sure you're doing the right thing but with Emma, Rupert and Daniel, that has become part of their psyche. They've been doing that job so long, they have such ease and an instant connection with it, and a real truthfulness."
Hinds said drawing up the schedules around everyone's availability must have been a "nightmare" as everyone was committed to other projects. The actor also appears alongside Daniel Radcliffe (Harry Potter) in the film "The Woman in Black" and said of Radcliffe:

"He's very good, but he will get better and better. He's very committed to it, and although he's not a bustling figure, he's a very thoughtful and thorough professional. He has had to do all sorts of murky stuff filming The Woman In Black and I know he has been taking singing and dancing lessons before heading off to take part in a play on Broadway. It's not about glamour, it's about doing things well."
Hinds further spoke about working in television and theatre, as he appeared tonight and yesterday in ITV police drama "Above Suspicion". Read the full interview with Ciarán at this link.
Thanks Prosophules for the heads up!