LeakyCon 2011 Call for Programming Now Open!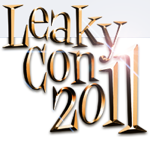 Jan 07, 2011
We are excited to announce that LeakyCon 2011 is now accepting programming submissions for our conference, taking place this year in Orlando, Florida! Submissions close February 28, 2011, so please click here and follow the directions in order to submit.
LeakyCon 2011, The Leaky Cauldron's second charity conference, is accepting proposals for of our two unique tracks of programming which, together, encompass the creativity and history of the Harry Potter world: Academic and Informal. Our academic side feature keynotes, panels, workshops, roundtables, and more, focusing on the life lessons, morals, and ideas of the Harry Potter story. These topics will be discussed in great detail and cover every subject imaginable. Informal programming will provide a look at the lighter and creative side of the Harry Potter fandom, with programming including fandom artists, podcasts, Quidditch games, movie screenings, and a series of events on what can be created by Harry Potter fans. A full list of programming options, along with an example presentation summary, can be found right here.
If you haven't yet heard, LeakyCon 2011 will take place from July 13-17, 2011, the same weekend as the release of "Harry Potter and the Deathly Hallows: Part 2." Taking place at the Royal Pacific Hotel, the conference will be a short boat ride away from the Wizarding World of Harry Potter theme park. To find out about everything we have in store for you at LeakyCon and to register, click right here.
See you in Orlando!