Dan Radcliffe Talks "The Woman in Black"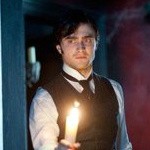 Oct 01, 2011
In a new article, Dan Radcliffe has discussed his decision to act in "The Woman in Black":
He said: "I wanted to do a film where people get involved in the film, it's not about me.
"That's not really what it's about, although I'm the main character, but it's about the film as a whole.
"That, for me, is what people will like about this film. They might
be going in thinking, ˜oh, we are going to see Harry Potter do his new
film', but 10 minutes in, they won't care about any of that. They are
going to want to watch the film for what it is.
"I'm playing a father, which automatically is a bit of a leap for some people, but I don't quite understand why.
"I think we put Arthur's age at about 24, 25, with a five-year-old
son, which is completely conceivable in the modern day, and even more so
in the late 1800s, when this is set.
"And so it was perfect in that sense, but it also wasn't so
different that people were going to start saying, ˜oh, he's now just
trying too hard to separate himself' and all that rubbish."
Radcliffe also discussed his relationship with some of his fellow Harry Potter stars:
And certainly he and the other young cast, in particular Rupert Grint
and Emma Watson who played Ron and Hermione, are close to his thoughts
as are other cast members such as Tom Felton, who played Draco.
He said: "We are all just very supportive of each other, as you would expect I suppose.
"They all come and see me and I'm excited. Rupe has just been
finishing a film, Tom has got loads of films coming out as well as
Planet of the Apes, Emma has just finished The Perks of Being a
Wallflower. We all keep in touch."
Radcliffe also talked about some of his potential upcoming projects as well as projects he would like to do in the future:
Next year he's hoping to pack in even more films, although he won't
be doing the rumoured role in Seth Rogen's Jay and Seth vs. the
Apocalypse.
But he is still hoping for a comedy role.
He said: "There are lots of things lined up for next year, and one of them is very funny.
"But I would love to do Shakespeare, I'd love to do Orton. But what
I'd love to do more than anything else is a new play that's the one
really creative process that I've not been involved in."
You can read the rest of the article here.