Rare Harry Potter Sketch by UK Illustrator Up for Auction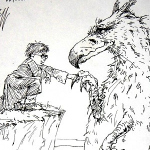 Oct 04, 2011
A sketch of Harry Potter with the mythical hippogriff Buckbeak drawn by former Harry Potter illustrator Cliff Wright will be up for auction at the end of the month, the Daily Mail reports.
Mr. Wright was the illustrator of the UK Harry Potter book covers for Sorcerer's Stone through Prisoner of Azkaban. The sketch was made in 2002, and is estimated to sell for £10,000 at the Antiques for Everyone Fair in Birmingham from October 27 – 30.
See a preview of this rare drawing at this link!