E! Online to Live Stream Harry Potter Celebration in Orlando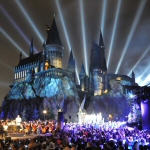 Nov 03, 2011
A red carpet event will be held on Saturday, Nov. 12 for the Blu-ray/DVD release of "Deathly Hallows: Part 2″ and E! Online will be live streaming the event beginning at 8:30 p.m. ET/5:30 p.m. PT.
The event is part of Warner Bros. and Universal Orlando's celebration of the Harry Potter films, which will be taking place next weekend, Nov. 11-13, at the Wizarding World of Harry Potter. The festivities will mark a decade since the release of the first film
and promote the release of the final Harry Potter Blu-ray/DVD, "Deathly
Hallows: Part 2."
Guests confirmed to attend the event include actors Rupert Grint (Ron Weasley), Jason Isaacs (Lucius Malfoy), James and Oliver Phelps (Fred and George Weasley), Evanna Lynch (Luna Lovegood), Helen McCrory (Narcissa Malfoy), Warwick Davis (Professor Flitwick), Mark Williams (Arthur Weasley) and director David Yates.
Leaky will also be on hand to provide full coverage and interviews with the cast and crew, so stay tuned!