Alan Rickman Voted Broadway's Sexiest Man, Interview with NPR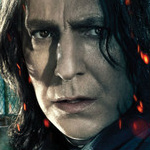 Dec 12, 2011
Broadway.com recently asked readers to vote for Broadway's Sexiest Man and Alan Rickman (Severus Snape) won the title. Second and third place went to Hugh Jackman and Nick Adams respectively.
Rickman also did an interview with NPR where he discusses a variety of topics including his new play "Seminar," his role in Harry Potter, and playing villains:
On playing the Sheriff of Nottingham in Robin Hood: Prince of Thieves and other bad guys
"You
can't … say to yourself, 'I am playing a villain.' [The characters]
don't think they are anymore than heroes think that they're heroes.
They're just who they are and this is what they want. It's other people
that put that label. So you can't judge the character you're playing
ever.
"And I suppose all I can say is as time has gone on, I've been fortunate to do things like Sense and Sensibility and Truly Madly Deeply. [In] Love Actually, [Rickman's character, Harry] might have been naughty, but not exactly a villain. …
"[Playing
a villain is] a very small part of whatever I've done. It's like two or
three parts, and they just happened to have big publicity budgets. But
… it's not the major area of my work."
Thanks so much to potions fan for the links to both of these items!