Daniel Radcliffe Named 'Entertainer of the Year' by Entertainment Weekly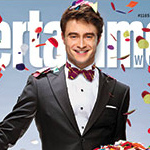 Dec 07, 2011
Entertainment Weekly has named actor Daniel Radcliffe their "Entertainer of the Year" for 2011 following the success of the final "Harry Potter" film and his critically acclaimed performance on Broadway's "How to Succeed in Business…"
EW editor Jess Cagle appeared on Good Morning America to announce their choice. She said:
"Ultimately there was one person who made the most sense." Cagle
added that Radcliffe is "the nicest guy with one of the brightest
futures in Hollywood. There's nothing he can't do."

And, said
Cagle, "He's really interested in doing the work. Despite all his wealth
and fame as a teenager, he never derailed. He was never busted. Never
went outside without his panties on."
A preview of Radcliffe's cover for the magazine can be seen here. Entertainment Weekly hits newsstands this Friday, Dec. 9.