Emma Watson Confirmed for New Role in "Perks of Being a Wallflower"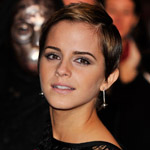 Feb 10, 2011
Actress Emma Watson (Hermione Granger) announced on her Twitter and Facebook accounts that the rumors are true: she has been cast in the upcoming "Perks of Being a Wallflower" alongside Logan Lerman ("Percy Jackson & the Lightning Thief").
Ms. Watson revealed filming will begin this summer and she will be taking on the role of Sam, the main character Charlie's first love (portrayed by Lerman).
"The Perks of Being a Wallflower" is based off the novel by Stephen Chbosky. Chbosky has also written the screenplay and will direct.