Valentine's Day E-Cards and Updates from Radcliffe's "How to Succeed…"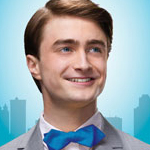 Feb 11, 2011
Daniel Radcliffe's (Harry Potter) upcoming Broadway show, "How to Succeed in Business Without Really Trying" has updated its website with some special Valentine's Day cards and cast videos.
Fans of the Broadway musical can send a Valentine's Day e-card by Facebook, Twitter, or e-mail. Radcliffe's character J. Pierrepont Finch is one of the five cards that can be picked.
A video interview with Radcliffe preparing for "How to Succeed…" is also in the Leaky galleries. He speaks about playing the role of J. Pierrepont Finch and what it's like returning to Broadway.
Additionally, our gallery of promotional images has also been updated to include Radcliffe's cast profile amongst other photos.
Tickets for "How to Succeed…" are now on sale. Performances begin on February 26.