Harry Potter Cast and Author at BAFTA Film Awards; J.K. Rowling "Writing Hard" (Updated)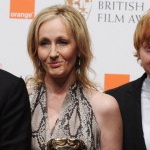 Feb 13, 2011
The BBC have a couple of new interviews up with the Harry Potter cast from the BAFTA Film Awards which are taking place in London's Royal Opera House this evening. You can find a short interview with Rupert Grint (Ron Weasley) from the red carpet here and an interview with Helena Bonham Carter (Bellatrix Lestrange) talking about the success of "The King's Speech" here on the BBC website. As we told you over a week ago, the Harry Potter films have won this year's Outstanding British Contribution to Cinema. Harry Potter author J.K. Rowling has been spotted on the red carpet.
Update: The BBC now have a highlights from the red carpet video up, with footage of Emma Watson being photographed by the press. You can find that video here on the BBC website.
Speaking to Lizo Mzimba from BBC News, J.K. Rowling described being at the BAFTA Film Awards to get a special BAFTA as an "incredible thrill" and "a particularly meaningful award because it was very important to me to keep it British and we had these amazing British actors". Watch a video of the Harry Potter author on the red carpet here on the BBC News website. "It is mindblowing, actually," said Rowling of the franchise's success, "it is extraordinary. I never got over the thrill of going down to Leavesden Studios and walking onto a set, physically walking into a space I'd imagined in my head."
Commenting on her current writing projects, Rowling said:

"I don't know when you'll be able to read it, I've got several things on the go at once. It's hard to know which will be the first that actually appears in print, but I'm writing hard."
"Harry Potter and the Deathly Hallows: Part 1″ lost in both the Make Up & Hair and Production Design categories.
Other Potter-related wins:
"The King's Speech", which stars Helena Bonham Carter (Bellatrix
Lestrange) Timothy Spall (Peter Pettigrew), Michael Gambon (Albus
Dumbledore) won a total of

seven

BAFTAs, including Best Film and Best Supporting Actress for Bonham Carter. "Deathly Hallows: Part 1″
composer Alexander Desplat won for Best Original Music for the score in "The King's Speech".
"Alice in Wonderland" won the Make Up & Hair award. The film stars Bonham Carter as the red queen, Alan Rickman
(Severus Snape) as the Blue Caterpillar, Timothy Spall as Bayard and
narrator of the UK Harry Potter audiobooks Stephen Fry as the voice of
the Cheshire Cat.
Stay close to Leaky for more news on tonight's ceremony.