Stuart Craig Talks Potter Films; Work Aesthetic, Choices; and More in New Interview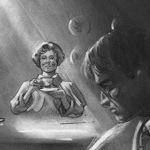 Feb 18, 2011
Harry Potter film production designer Stuart Craig is the subject of a new, hour-long interview with ArtInsights Magazine. The interview with the three time Oscar nominee accompanies the release of exclusive Harry Potter related concept artwork by artist James Goodridge for sale on the gallery today. In this interview, "Craig discusses his career, his aesthetic, the specific choices he used in the last 2 movies, and what he plans for his future." The full audio of the interview can be watched via this link, while a complete transcript can be found right here.
The aforementioned Harry Potter concept art is also available for viewing on the ArtInsights website here. James Goodridge, the artist of the art, "…has created art for most of the highest grossing films and tv shows of the last 15 years, including Harry Potter, and most recently Inglorious Basterds, True Blood, Tangled, Wall-E, 300, Spiderman, Pirates of the Caribbean, and Sucker Punch. There are over 80 pieces of original art for sale. Continues co-owner Combemale, "The rarity of the opportunity to buy the art as a collector¦we search all the time for art available for purchase. Mostly it just isn't out there. The difference is when an artist is well enough known that they can demand retention of the original art. It's good to know the expansion of awareness of the art might be doing that for the artist," says ArtInsights co-owner Leslie Combemale.
A press release notes that the gallery will have the art on display as sales allow, or through the release of the last Harry Potter movie.
Many thanks to ArtInsights!