Magical Creatures Take Over the Leakypedia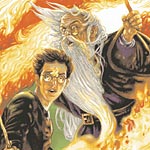 Feb 02, 2011
Magical Creatures Take Over the Leakypedia, will hopefully be more accurate for Tomorrow's headline, as currently, Magical Creatures are one of the few major categories in the Leakypedia that have less then full information.
How many can you name? Do you have any favorites? Which do you think are the most unique?
Don't care about magical creatures? If you care about MyLeaky points at least, know that you'll get 75 points for adding to the main page, and 20 more points for each creature page you contribute to.
Speaking of those MyLeaky points, check back soon for an announcement on what those points could translate into this month and onward! My advice, start stockpiling them now!