Character Motto Contest Winners Announced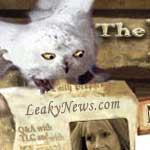 Feb 06, 2011
In January our Contest Team invited you to take part in their Character Motto Contest, which asked you to come up with a motto for any of the characters mentioned in the Harry Potter books. After receiving many great entries, the judges have now picked the winners as follows:
First Place: Hedwig2751
George Weasley: Life is short, live it and end it laughing.
Second Place: Linda Shakespeare
Fred and/or George Weasley: Who said jokes had to be practical?
Third Place: UpToNoGood7
Molly Weasley: "Familia primum semper procedit" meaning 'Family always comes first'
Honourable Mention: WeenyOwl
Wilkie Twycross: Have 3 Ds – Will Travel
Honourable Mention: Avery W. Krouse
The Ollivander Family: It takes one to know wand.
The first place winner will receive a handcrafted wand donated by Wizard Wood Wands (changes monthly) and 200 MyLeaky points. Second and third place will receive 150 and 100 MyLeaky points respectively. Well done to the winners and everyone else who entered!