Daniel Radcliffe CBS Interview: "This is a Really Exciting Year for Me"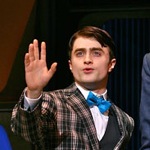 Mar 13, 2011
It felt as though there wasn't a single topic left out when news anchor Katie Couric interviewed Daniel Radcliffe (Harry Potter) recently for CBS News. The two talked about Radcliffe's latest role in the Broadway musical "How to Succeed in Business Without Really Trying," as well as his upcoming film "The Woman in Black" and the final "Harry Potter." Other topics of conversation included his relationship with J.K. Rowling, his involvement with The Trevor Project, and his love of reading.
Watch the extended, 45 minute long interview here.
Radcliffe will be making several television appearances in the next couple of days beginning with NBC's Today Show on Tuesday, March 15th. He is expected to perform a number from "How to Succeed…" during the program which airs between 7 and 11 a.m. Additionally, Radcliffe will be on Live! with Regis and Kelly on Thursday, March 17th.
"How to Succeed…" is now playing. More information can be found on the production's official website.