"Deathly Hallows: Part 2″ Sneak Peeks Airing Thursday on ABC Family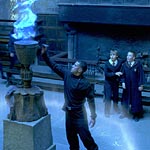 Mar 15, 2011
Another Harry Potter Weekend is upon us, and this time it comes with news that ABC Family will be airing exclusive interviews and footage from "Deathly Hallows: Part 2."
The weekend kicks off on Thursday, March 17th with "Harry Potter and the Sorcerer's Stone" at 7:30 p.m. ET/PT. Each of the first five films will be playing through Sunday, March 20th on the cable channel. The complete schedule can be found at the end of this post.
As for the new footage, a press relase from ABC Family via Coming Soon states:

The never-before-seen footage that will be airing throughout the weekend includes a look back at Harry and Ginny's relationship, director David Yates' take on Harry and Hermione's relationship, the origins of The Marauder's Map and a look into the very last shot of principal photography of the film franchise with producer David Barron. ABC Family will also be airing exclusive sneak peeks at some of "Harry Potter and the Deathly Hallows – Part 2's" most exciting moments, including Harry & Draco's fight in the Room of Requirement, the hair-raising dragon sequences and the final courtyard battle between good and evil.
The complete Harry Potter Weekend schedule is below; please note that "Deathly Hallows: Part 2″ footage will be shown at random times during commercial breaks:

Thursday, March 17th

7:30 PM – 11:00 PM ET/PT – "Harry Potter and the Sorcerer's Stone"

Friday, March 18th
3:30 PM – 7:00 PM ET/PT – "Harry Potter and the Sorcerer's Stone"
7:00 PM – 11:00 PM ET/PT – "Harry Potter and the Chamber of Secrets"

Saturday, March 19th
9:00 AM – 12:30 PM ET/PT – "Harry Potter and the Sorcerer's Stone"
12:30 PM – 4:30 PM ET/PT – "Harry Potter and the Chamber of Secrets"
4:30 PM – 7:30 PM ET/PT – "Harry Potter and the Prisoner of Azkaban"
7:30 PM – 11:00 PM ET/PT – "Harry Potter and the Goblet of Fire"

Sunday, March 20th

7:00 AM – 10:30 AM ET/PT – "Harry Potter and the Sorcerer's Stone"
10:30 AM – 2:30 PM ET/PT – "Harry Potter and the Chamber of Secrets"
2:30 PM – 5:30 PM ET/PT – "Harry Potter and the Prisoner of Azkaban"
5:30 PM – 9:00 PM ET/PT – "Harry Potter and the Goblet of Fire"
9:00 PM – 12:00 AM ET/PT – "Harry Potter and the Order of the Phoenix"