Emma Watson Announced as the New Ambassadress of Lancome, Images from Photoshoot with Mario Testino (Updated)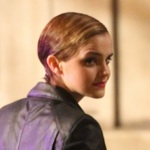 Mar 15, 2011
After posting a set of clues on her official Twitter account and a number of rumours last month, Emma Watson (Hermione Granger) officially was announced as the new face of Lancôme. Emma's official website quoted the press release from the French beauty house as follows:

Lancôme is pleased to announce the arrival of Emma Watson as new ambassadress of Lancôme. "Thanks to her charm, romanticism and her incredible modernity, Emma Watson has become the icon of her generation. we are delighted by this new collaboration with Emma who brings a fresh spirit to Lancôme", says Youcef Nabi, President of Lancôme International.
Emma also tweeted: "It starts with an L and ends with an E. I'm sure you have guessed the new face of Lancôme is me! :-)" The actress spent Monday in Paris working on her Lancôme advertising campaign with acclaimed photographer Mario Testino. Update: You can now find some of the behind the scenes photographs from that shoot at this link in our galleries.